With approximately 85% of our churches in decline, no one disputes the need for revival. The only question seems to revolve around methodology. In the minds of many, local church revivals are a thing of the past. Evangelists are an endangered species. As a veteran evangelist of 35 years, we are still seeing more professions of faith in a Sunday-Wednesday format than what 98% of our churches will baptize annually! I find this to be true in Arizona, New Mexico, California and other non-Bible belt states as well. Indeed, the Voices of Experience listed below go far in validating the legitimacy of evangelists in today's society and the continued relevance of this time-tested methodology. Our ministry offers a thorough preparation manual designed to maximize potential for the week and will alleviate pressure from the pastor by delegating assignments to key laymen and staff. Through the years (and I say this with utmost humility) many have described our prep materials as the best they've seen.
As a revivalist, it should be noted that my gift-mix is not confined to drawing the net evangelistically. I have a deep burden for the complacency and lethargic spirit that dominate so many of our churches. Thus, a balanced approach in challenging the church as well as targeting the unbeliever is utilized during our meetings. In pre-crusade consultation with the pastor, it is not unusual for three out of the five sermons to be directed toward the church.
However, every church has its own culture and mindset. Weekday services may not be the option of choice. I am flexible. Friday-Sunday, Sunday-Monday… whatever works best for you. Keep in mind, though, an important dimension of our ministry is school assemblies. A weekend-only format often eliminates or reduces the effectiveness of any youth emphasis.
Upon reading the comments from the pastors below, I want to be quick to point all the glory to our Lord Jesus for whatever good has come from these engagements. He is faithful! Likewise, I am deeply grateful to these pastors for attaching their names to our ministry. I believe that God can, and will, do the same in your fellowship as we partner together utilizing the tools He has entrusted to us.
Voices of Experience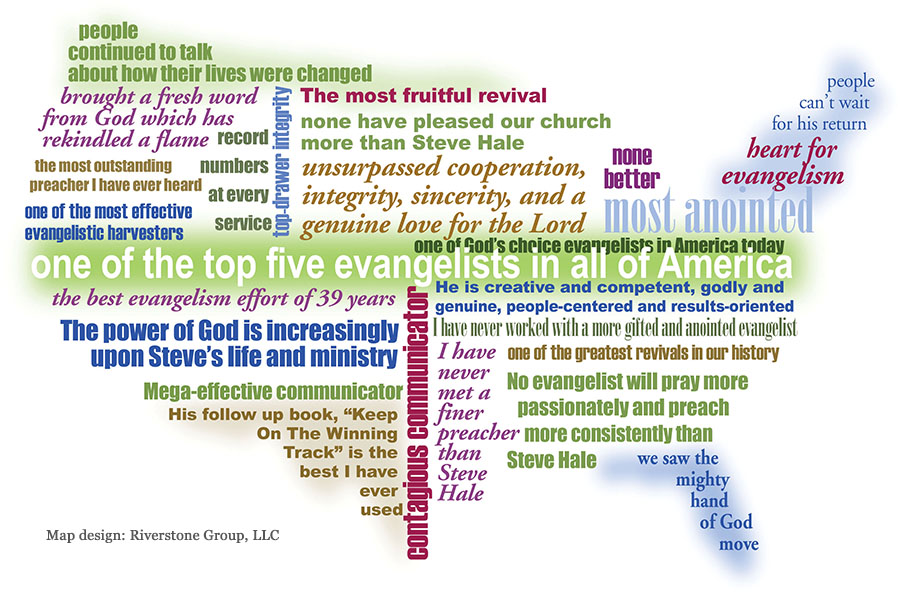 "Who says local church revivals are a thing of the past and churches cannot sustain extended meetings anymore?  Our revival with evangelist Steve Hale was the greatest meeting we've ever experienced.  We recorded a total of 61 decisions for Christ.  Dr. Steve Hale is one of the most gifted evangelists in America.  He has a God-given, Spirit-anointed ability to communicate across age differences in a way that holds everyone's attention.  His voice needs to be heard in our land."  
Pastor Geoff Lacefield; Cloverleaf Baptist Church; Louisville, KY.
"I know that revival crusades are seen as old-fashioned.  However, I can assure you that if you will partner with Steve Hale, you will see some old-fashioned results.  We had over 90 decisions for salvation." 
Rev. Steve Ballew, Trinity Southern Baptist Church (former pastor); Casa Grande, AZ.
"I realize that revival services are seen as antiquated, but when Dr. Steve Hale comes as your evangelist there's nothing old about it.  Dr. Steve Hale brought a fresh word from God's Word which has re-kindled a flame in the belly of First Baptist Church.  God used him as an instrument to wake up this old comfortable body of believers." 
Rev. Tim Burgess, First Baptist Church; Mt. Vernon, MO.
"With all of today's 'marketing' of church strategies, I still do not know of any where we see results like we did at the revival with Steve Hale.  Steve, in my honest opinion, is one of the very best preachers in the country.  God's anointing and power are obviously upon him.  I urge you to invite Steve to your church, and prepare for the best week of your church year." 
Rev. Rich Jenkins, Macedonia Baptist Church; Springfield, MO.
"Wow!  What a great meeting we had with Steve Hale!  What God does through Steve Hale is bigger than everything else we do all year combined!  Our attendance was the highest of any revival service we have seen in recent memory.  We saw more salvation decisions than we baptized all last year!  It was extraordinary how well each sermon wasted not a moment nor a breath delivering scripture citations, illustrations, and cogent stats with an urgency that was soul-stirring, nearly breath-taking to the listener.   I look forward to having Steve Hale back time and time again in the rest of my years in Gospel work."
Dr. Spencer Ray, First Baptist Church; West Plains, MO.
"In a day when the revival methodology is being questioned and disregarded by many pastors, our experience with Steve Hale would cause any skeptical pastor to reconsider.  To my knowledge, our meeting with Steve exceeded any other revival in our church's history.  Attendance was outstanding, the Spirit was vibrating with expectancy, and the many professions of faith left us with much work to done.  Yes, revivals still work and Steve's preparation manual is one of the best to help make it a reality."

Dr. Mark Pitts, Village Meadows Baptist Church; Sierra Vista, AZ.
"There is no evangelist on the world scene today that I have more confidence in than Steve Hale.  He is creative and competent, godly and genuine, people-centered and results-oriented.  For years Steve has rocked the nation with the impact of his message.  You simply must contact Steve Hale to lead your city in a crusade.  You will not be disappointed."
Dr. Toby Frost, Former Event Evangelism Manager; North American Mission Board; Alpharetta, GA.
"I am still marveling at the powerful move of God that fell on our church and community during a recent revival that was conducted by Dr. Steve Hale.  We praise God for the 52 people who made professions of faith in Jesus Christ, and 40 more who re-dedicated their lives to Christ.  What makes these figures even more impressive is the fact that cold, snowy weather conditions prevailed throughout much of the week, negatively impacting attendance on Sunday morning and evening services.  Steve Hale is a dynamic preacher who has his finger on the spiritual pulse of our nation.  He challenged our congregation with prophetic proclamation and is truly a gifted expositor of God's Word.  Steve Hale's professionalism and preparation are unequaled."

Rev. David Brown, Hillcrest Baptist Church; Lebanon, MO.
"Steve Hale preached for us at our State-Wide Evangelism Conference.  I have heard many outstanding evangelists, but none better than Steve Hale.  He was thoroughly prepared and obviously anointed by God.  Southern Baptists of Texas loved him and want him back a second time.  This humble man of God is the 'best of the best' as an evangelist.  If I were a pastor, I would schedule him as soon as possible."

Dr. Don Cass, Former Director of Evangelism; Southern Baptist of Texas Convention; Euless, TX.
"I wholeheartedly recommend Steve Hale for your next revival crusade.  Steve is a great communicator as well as a great writer.  He is a friend of pastors.  With a keen understanding of the cultural battles we face, Steve's preaching is bold and without apology.  You will see people saved and hearts encouraged." 
Dr. Michael Catt, Sherwood Baptist Church; Executive Producer, Facing the Giants, Fireproof, Courageous; Albany, GA.
"When I prayed about inviting an evangelist to preach at Gardendale First Baptist Church, Steve Hale was the first name that came to my mind.  He has a unique way of engaging the congregation with anointed, Spirit-filled preaching of God's Word.  He is genuine and transparent.  Our people love him and can't wait for his return." 
Dr. Kevin Hamm, Gardendale First Baptist Church; Gardendale, AL.
"Without hesitation, I believe Steve Hale is one of the top five evangelists in all of America.  His giftedness as a Spirit-empowered evangelist is readily apparent.  His many years of moral and financial integrity have few equals.  During his time with us each service was packed to capacity and we saw 122 professions of faith.  As a pastor who has used many evangelists, I recommend Steve Hale without reservation."  
Dr. Jim Palmer, Miles Road Baptist Church; Summerville, S.C.
"We had, by far, the most effective revival meeting ever during the twenty-plus years that I have been at First Baptist.  The attendance was better than previous meetings and the crowds grew each night.  We saw over 100 decisions for Jesus Christ and are still baptizing every Sunday."

Rev. Ronnie Walker, former pastor of First Baptist Church; Belleview, FL.
"In a wishy-washy world it is good to know God has a preacher like Steve Hale.  I commend him to you as a bold man of God who preaches without compromise." 
Dr. Herb Reavis, North Jacksonville Baptist Church; Jacksonville, FL.
"There were NO emotional appeals, yet we had 60 professions of faith!  His follow-up book, 'Keep On The Winning Track' is the best I have ever used.  We baptized souls every Sunday after the revival for seven weeks with additional decisions every service to date."
Dr. Bob Hall, First Baptist Church; Beebe, AR.
"Steve Hale was used mightily in our midst.  In the 31 years that I have been Abilene's pastor, we had the largest crowds that we have ever had.  You will find Steve Hale to be well-prepared and totally committed to the task to which the Lord has called him." 
Dr. Bill Harrell, former pastor, Abilene Baptist Church; Martinez, GA.
"It has been my privilege to know Dr. Steve Hale for almost all of the 34 years he has served as a vocational evangelist.  He has proven himself to be one of the most effective evangelistic harvesters among us today.  He has become one of the leaders in the circle of evangelists and a bold spokesman for the need of vocational evangelists.  You will be blessed as have the scores of church leaders who have used Steve in the past."

Dr. Richard Harris, North American Mission Board Ambassador; Retired Vice-President; Alpharetta, GA.
"I had the honor of pastoring the same church for 39 years.  Our time with Steve Hale was the best evangelism effort of those 39 years.  Steve came with a humble and cooperative spirit.  His preaching was profoundly biblical, clear, and powerful."

Rev. Larry Holland, Former Pastor; Franklin Heights Baptist Church; Rocky Mount, VA.
"Without a doubt, our time with Steve Hale was one of, if not, the best revival meeting that I, or our church, have ever been a part of.  An 86-year- old lady who has been a member for 64 years said, "Preacher, I have not seen our church this full in 40-plus years."  Another member said with tears streaming down his face, "God is amazing, isn't He!"  This was in response to the multiplied decisions that were recorded all week.  Our crowds grew each evening and by Wednesday night our attendance had DOUBLED from Sunday morning!  Steve spoke the language of our adults as well as our youth.  His knowledge of prophecy and how it relates to where we are in history is phenomenal and greatly impacted our adults.  Steve also has his hand on the culture of our young people today.  I watched as 100 teenagers sat spellbound for 45 minutes as Steve preached.  As a result of these meetings, we have baptized more in one night than we had in the previous 11 months!  Since our revival we have started two new Sunday school classes, both new believer's classes for youth and adults.  We have seen an increase in discipleship groups.  With a new emphasis, we are launching our outreach ministry in an effort to see the salvations continue.  I cannot guarantee these same results in your church but I can guarantee that God will use Steve in powerful ways.  I am reminded of the words of Jesus as He stood outside the tomb of Lazarus after having raised him from the dead.  He said to those who took away the stone, "Loose him, and let him go."  Call Steve Hale, book him for a series of meetings, then loose him and let him go.  Lives will be changed and your church will be blessed!!"
Jason Vinson, Lexington, Alabama
"Dr. Steve Hale has been with our church on multiple occasions and without exception I have found him to be a servant of God who is always reliable to bring a strong word from God with a loving. and yet. challenging message. His message to our men was powerful to say the least. In fact, I had just returned from attending two one-day conferences, but I received more relevant and inspirational content from one session with Dr. Hale's time with our men than in those two full days of conferences. Only by God's anointing can a session be so valuable. Additionally, his "Just For Pastors" newsletter is a source of encouragement and often speaks to where I am. If you have never used this man of God, you are depriving your church family of a blessing."
Rev. Larry Miller, Pastor; Eastern Hills Baptist Church; Albuquerque, New Mexico
"I wholeheartedly recommend Steve Hale to other pastors for revival. Steve is a pastor's friend and supports the pastor in all that he does. He is an excellent preacher and has the people coming back to every service. With his skills in communicating with young people and a solid and very convincing school presentation, he brings a unique and special ability to relate to people of all ages. His revival handbook is by far the best I have ever seen and used. Steve spoke to over 5,000 students with his "Be A Winner" assembly presentation and we had over five times the attendance of our normal number of youth. The church experienced revival as we have not seen in years."
Craig Hartzog
"We have just finished a revival meeting with Steve Hale. What an awesome week! Our people have truly been revived! Steve spoke in three of our schools, delivered a great message, and held their attention the entire time, a feat only few can accomplish. Even more importantly, Steve has opened a door of opportunity for us in the schools. Because of Steve's kindness, integrity, and respect, the administrators now trust us. In fact, the teachers and administrators were so pleased that they wanted him to speak more, but time did not permit. Finally, Steve preaches with such power, authority, and anointing that my people are asking when we will have back. My answer is 'soon.'"
Dr. Ralph Jenkins, Pastor; Cartersville, GA.
"It is with great joy and excitement that I recommend Dr. Steve Hale as an evangelist to you and your church. His messages are from the heart of a man of God, from the mind of a student of God's Word who rightly divides the Word, and from the soul of a man on mission with a passion to reach the lost. As a pastor of over more than forty years who has had some 68 revivals in my pastorates, I have absolutely no hesitation in recommending Dr. Hale to you. His preparation manual is superb. He will provide you with many ideas and suggestions for filling your sanctuary with people. Steve spoke on Sunday morning during the Sunday School hour to our youth encouraging them to attend and bring their friends. He visited each class in our Children's Division during their Sunday morning classes. Not only were his messages evangelistic, disciple-based, relevant, interesting, and challenging, but he knew how to draw the net in a very positive and non-manipulative way. His invitation method has great integrity. Our revival with Dr. Hale was a wonderful experience from start to finish. His thirty-five years in evangelism speaks of his faithfulness to his calling. I encourage you to be blessed and to benefit from the ministry of Dr. Hale. He is an anointed evangelist who has my appreciation, admiration, and respect for his expertise in evangelism and outreach."
Dr. Forrest Sheffield, Pastor; Tupelo, MS.
"After a 26-year pastorate at Green Ridge Baptist in Roanoke, Virginia, I have probably invited Steve Hale to conduct various ministry venues on at least ten occasions. Whether it has been four-day crusades, weekend men's conferences, or Harvest Day events, Green Ridge has not been the same because of this man's ministry among us. I consider Steve Hale to be the consummate preacher, someone I never tire of hearing. Many of today's pastors have a false caricature of evangelists/revivals that has led to inaccurate conclusions. If exposed to Steve's ministry and integrity, I believe such preconceived notions would change. For example, two years ago we invited Steve to conduct one of his Men Who Win conferences and we are still seeing the fruit. A few of our men were radically changed and it is a joy to observe the continued transformation of our men as a result of the power of God's Word through the Men Who Win conference. As I retire later this year, among my fond memories as Green Ridge's pastor will be our times with Steve Hale. I've made a friend for life and commend him to you with full confidence that you'll not be disappointed."
Dr. Michael Palmer, Pastor; Roanoke, VA.
"I have known Dr. Steve Hale for 12 years. As both a pastor and interim pastor, I have had the privilege of hosting Steve for two revival/evangelistic crusades. In both cases I have found Steve to be a terrific resource for the local church. In my last revival experience with Steve, he put us ahead exponentially. By that, I mean the healing in our church and decisions for Christ gave us a jump start. I think we are now much better prepared for God's vision to be fulfilled in the future!
Steve is a man of deep integrity. His communication skills are outstanding. He has a special gift to relate to both youth and adults. Interestingly, he has a "double-barrel" ability to reach the lost and see Christians revived. I would call him an "evangelist" and a "revivalist." His skill in being comfortable in the school settings is remarkable. His understanding of the challenges of the local church in this era is notable. Without hesitation, I recommend Dr. Steve Hale. On a side note, as a journalism major from his college days, his writing ability is exceptional. His plethora of materials that he has produced in book and CD form are invaluable additions to his speaking ministry.
Finally, he was cool about the offerings. And although we collected what I feel were very respectable offerings, I did not have to prod the people inappropriately to freely give love offerings. I think the responses of my congregations made a statement as to their delight in hearing such a gifted servant of God. I believe in the anointed ministry of Dr. Steve Hale!"
Dr. Bob Horner; Dahlonega, GA.